You are here
Literacy
NBTT offers many tranings to all the language projects that are under the organization. We have many primers and some literature materials for teaching literacy  in the mother tongue. This training comprises of three unit which is normally call Introductory Course in Apply Linguistics (ICAL). 
This programme aim at training native speackers on how to read and write their language in a formal way. It is in order that the tranners will help enchance the use of translated Scriptures here after the traiining so that there will be more impact in the language area.
On one of the raining, we offered certificate to participants which will help them to be effective in their language area. One of the pictures taken is here below: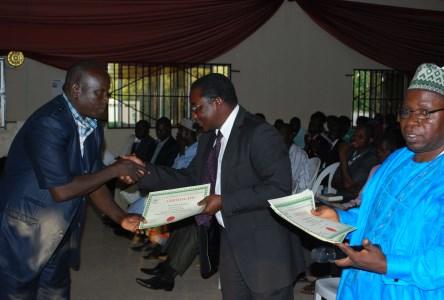 From the picture above by the right is the Executive Director of NBTT, next is Pro. Tesur Aben the Provost of TCNN, and Joseph D Musa of Lala Language Project of Adamwa State.
      The workshop, have a lot to offer such as:
Illustration of Big book for awareness of story like,
Production of Primer Pro data collection.
Production of newsletter
Organize teacher/writers training
Reading and writing materials
Keep literacy and other publication materials in public for distribution and awareness.
 Organize seminars and refresher course for all literacy coordinators
Plans for community and church literacy sections.